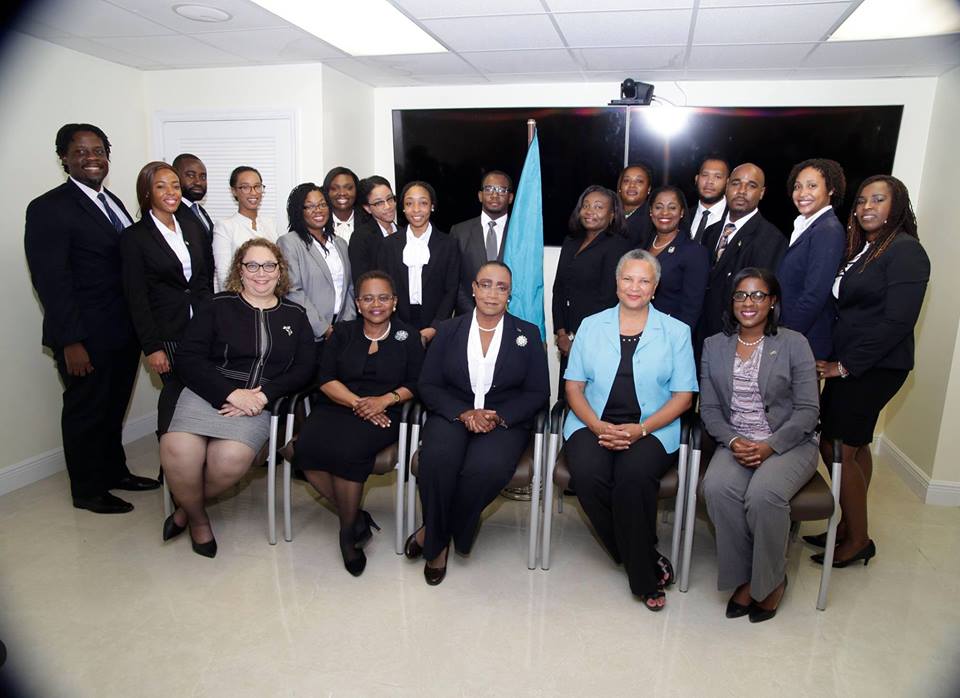 Closing Ceremony for Inaugural Class of The Ministry of Foreign Affairs and Immigration Foreign Service Institute's Induction Training Programme
On Friday 5th May, 2017, sixteen (16) New Foreign Service Officers completed five (5) weeks of Foreign Service Training, which began 3rd April, 2017. During the programme, participants covered a wide range of thematic modules related to the Basics of the Ministry of Foreign Affairs and Immigration, Basics of Government/The Public Service, International Organisations and Mechanisms and other important Policy Issues. They also had the opportunity to receive Spanish lessons and to participate in round-table discussions and field visits.
Seated from left to right:
Ms. Donna Lowe, Deputy Permanent Secretary & Director of Training; Mrs. Sharon Brennen Haylock, Director General; Mrs. Cleola Hamilton M.P., Parliamentary Secretary; Ms. Sheila Carey, Permanent Secretary; and Ms. Ieshia Deveaux, Foreign Service Officer.
Standing from left to right:
Denardo Hepburn, Farrah Styles, Kyle Strachan, Tabitha Stuart, Noelle Turnquest, Kristie Russell, Kelli deGregory, Shagerra Edgecombe, Tyson McKenzie, Anastacia Ryan, Kendra McPhee, R. Aruba Ferguson, P. Nicholas Symonette, Antonio Butler, Ashli Munnings and Anastacia Minnis.