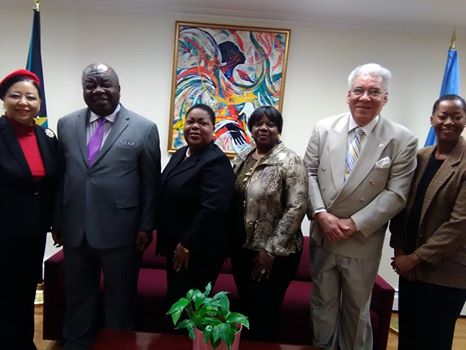 Executive members of FIDA pay a call on Ambassador Rahming and Consul General Carroll
On Friday, 17 March 2017 executive members of the Grand Bahama Branch of the International Federation of Women Lawyers (FIDA) paid on a courtesy call on Permanent Representative to the Bahamas Mission to the United Nations, Ambassador Elliston Rahming, and Consul General in New York, Mr. Forrester Carroll.
During the call, the FIDA members, Ms. Jethlyn Burrows, Justice Petra Hanna-Weekes and Ms. Charisse Brown, who are part of The Bahamas delegation to the Sixty-First Session of the Commission on the Status of Women, still ongoing at United Nations Headquarters in New York, offered information about their organisation. They informed that the mission of FIDA, a non-governmental organisation (NGO) with consultative status with the Economic and Social Council of the United Nations, is to enhance and promote the welfare of women and children, the study of comparative law, and the principles and the aims of the United Nations in their legal and social aspects.
Ms. Burrows presently serves as the President of FIDA. Justice Hanna-Weekes serves as the Vice-President of the North American regional arm of FIDA. Ms. Brown is the Director of FIDA/Grand Bahama.
This year, The Bahamas because it holds currently the chair of the President of FIDA, will host the international convention of the FIDA .Held every three years, it is anticipated that international event will attract hundreds of women attorneys world-over to gather in Freeport, Grand Bahama from 13-17 November 2017.
During the international convention, members traditionally make recommendations, embodied in resolutions, which are thereafter published in FIDA periodicals and circulated to be acted upon by its members in their respective countries. The conventions also provide FIDA members the opportunity to network and to formulate policies towards strengthening the organisation.
Ambassador Rahming and Consul General Carroll provided advice and offered assistance to the FIDA members relative to arrangements for the holding of the international convention in The Bahamas.
Please find attached a photo of the FIDA members with Ambassador Rahming and Consul General Carroll (from left to right: Justice Petra Hanna-Weekes, Ambassador Rahming, Ms. Jethlyn Burrows, Dr. Valencia Carroll, Consul General Carroll, Ms. Charisse Brown)