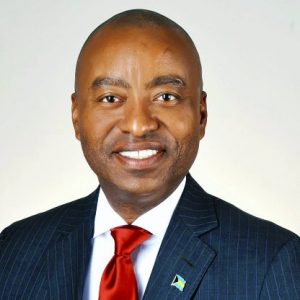 July, 2017
Hon. Darren Allan Henfield MP
Minister of Foreign Affairs
Independence Day Message
To my colleagues in the Foreign Service, here in The Bahamas and posted in our offices and stations across the world; it is my pride and privilege to join you in the celebration of our nation's 44th Anniversary of Independence.
As we reflect on the meaning of our country's life as an independent, self-actualising and sovereign nation; let us be thankful for the blessings bestowed upon us.  That we are a unique, great little country; often known as the greatest little country in the world.
We are blessed with a nation of bright, energetic and striving people who have worked together over these years to preserve and protect our cherished way of life.
I take this opportunity to join all in the Foreign Service in renewing our pledge to work to defend the sovereignty of our Bahamas in the international arena and to enhance our interests abroad.
Toward this end, each of us in the Foreign Service knows that we represent the interests of all Bahamians across the spectrum of all ages, groups and affiliations, in Nassau, Grand Bahama and Abaco and across our Family of Islands and those Bahamians in the growing Diaspora who live in many other places throughout the world.
All of us, both here in Nassau and at our country's various missions and embassies abroad are planning celebrations at this special time.
I wish you all, including the thousands of Bahamians overseas who will join you in celebration a Happy 44th Independence Anniversary.
We all work together, we strive together to achieve the same goals for our nation and we all celebrate together.
Darren A. Henfield
Minister of Foreign Affairs