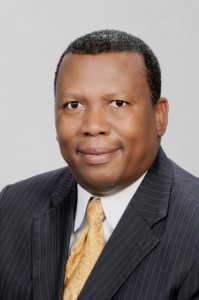 HE Picewell A. Forbes
Bahamas High Commissioner to CARICOM
Mr. Picewell "Soca" Forbes was born on August 1, 1961 in Smith's Hill, South Andros. He is married to the former Drucilla Wallace and they are the parents of four children, Demathio, Picella, Paige and Ramon. Mr. Forbes is a member of the Church of God Church community. His interests include softball, baseball, cricket and traveling.
Political Highlights: In 2007, Mr. Forbes was elected as the Member of Parliament for the South Andros Constituency.
Education: An alumnus of the College of The Bahamas, Mr. Forbes went on to complete studies at the University of the West Indes (Bachelor's) and Nova Southeastern University (Master's).
Civics/Social: Mr. Forbes is a founding member and the Assistant Treasurer of the Bahamas Press Club. He is the former President, Public Relations for the All Andros Association and former Secretary of Men's Fellowship Group of the Church of God Cathedral, along with other leadership roles. He has been recognized by the Toastmasters (First Bahamas Branch) with the Community Award, the Bahamas Division of Toastmasters with the Cultural Award, Kiwanis Club of East Nassau with the Leadership Achievement Award, Staniel Cay Community with the Achievement Award, South Andros High School with the Award for Leadership and Community Development and is an Honorary Citizen of Baton Rouge, Louisiana.
Professional/Career: Mr. Forbes has been a member of the broadcasting community for a number of years and has served in various capacities within the broadcasting field including Announcer, Deputy Director, Radio Programming & Production, Acting Assistant General Manager, Radio and most recently as Deputy General Manager, Radio Programming & Production.
Foreign Affairs and Immigration, Ministry of
Goodman's Bay Corporate Centre
2nd Floor, West Bay Street
Nassau City, New Providence,
Bahamas.