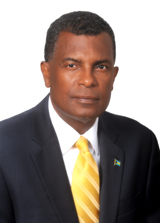 The Hon. Frederick  A.  Mitchell
Minister of Foreign Affairs & Immigration
New Providence.
Attorney Fred Mitchell was born in Nassau on 5 October 1953 to the late Fredrick A. Mitchell, Sr. and Lilla Angelina Mitchell (nee Forde).
Political Highlights: Mr. Mitchell was sworn in as the Minister of Foreign Affairs and Immigration on 10 May 2012.
His present Ministerial portfolio: Foreign Affairs, foreign missions, protocol matters, extradition, treaty succession, coordination of applications for International Technical Assistance, Law of the Sea, UN, OAS and CARICOM Affairs, passports, visas and immigration.
Minister Mitchell served as Minister of Foreign Affairs and Public Service (2002 – 2007); Chairman, Senate Select Committee on Culture (1992 – 1997);  A Member of the House Select Committee on Benefits for Parliamentarians (2013-2014); Former Chairman of Council for Foreign and Community Relations of CARICOM; Founding Member of the Bahamas Committee on Southern Africa. He served as a Head of the Commonwealth Observer Team for the Presidential Elections in Cameron in 2011.
As Minister of Foreign Affairs, Mitchell was instrumental in the fight to integrate Haiti as a member state of CARICOM. He also helped to negotiate a number of important international agreements on behalf of The Bahamas, including the Shengen Visa Agreement and the European Partnership Agreement.
He was also instrumental in establishing the Bahamian diplomatic mission in Cuba. During his tenure he also established the Bahamas Embassy in China and the Permanent Mission of The Bahamas in Geneva.
As the Member of Parliament for Fox Hill, Mitchell established a permanent constituency office in the community, He built a Community Centre for the use of Fox Hillians.
He has been instrumental in community building within Fox Hill proper and the wider constituency and has been a benefactor and friend to all of the schools in the area, most notably the Sandilands Primary School, L.W. Young Junior High School, and the Doris Johnson High School.
Mr. Mitchell as expanded the number to Consuls General to more closely interact with the Bahamian Diaspora. These include a Consul General in Washington DC; Honorary Consuls General in Los Angeles, Houston, Chicago and Denver.  During his tenure a High Commissioner to India for The Bahamas appointed for the first time.
Under his leadership, the Ministry of Foreign Affairs has engaged in an expansive immigration reform initiative through the implementation of new administrative measures to fight fraud and strengthen current immigration laws that became effective on the 1st November 2014.
Education: He received his early education at Eastern Junior School and St. Augustine's College, completing his tertiary education at Antioch College; Harvard University; and University of Buckingham with a Bachelor's degree in English Literature; Master's in Public Administration; and Bachelor of Laws. He has also attained Professional Certificates of Calls to both the English and Bahamas Bars.
Civics/Social: Mr. Mitchell has served in many social and professional organisations. He is a member of the Bahamas Bar Association; he is a founding member of the Bahamas Committee on Southern Africa and was an activist in The Bahamas Human Rights Association. Mr. Mitchell in Opposition served as the Co-Chairman on the Progressive Liberal Party's Committee on Foreign Affairs & Foreign Trade.
Professional/Career: Before becoming a Minister of the government, Mr. Mitchell was a Sole Practitioner of law at Gwendolyn House. He has worked at the Bahamas Tourist News Bureau; Bahamas Information Services; Broadcasting Corporation of The Bahamas; Office of the Prime Minister; The Herald; Al Dillette & Associates; and Toothe, Unwala and Leonard.
Foreign Affairs and Immigration, Ministry of
Goodman's Bay Corporate Centre
2nd Floor, West Bay Street
Nassau City, New Providence,
Bahamas.