Presentation of Credentials(Copie d'Usage) to the Minister is Foreign Affairs of the Dominican Republic.
Posted on: July 27, 2018
All News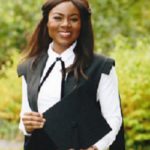 On 21 June 2018, Ms. Sasha Dixon, Second Secretary, Permanent Mission of The Bahamas to the United Nations Office and other International Organizations in Geneva, completed the Oxford University Foreign Service Programme along with 18 other members of the 2017/18 class. In keeping with the truly international character of the course, students hailed from seventeen…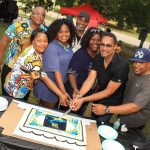 CHICAGO, Illinois – Bahamas Honorary Consul to Chicago, Hon. Michael C. Fountain, joined local and visiting Bahamians at the annual Bahamas Association Independence Picnic at Foster Beach on Saturday, 14th July 2018, celebrating the 45th anniversary of The Bahamas' attainment of independence from Great Britain on 10th July 1973. The Bahamas Consulate Chicago helped sponsor…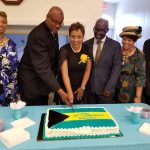 Sunday 22nd July, 2018 MIAMI, Florida–The staff of the Consulate General in Miami celebrated the 45th Anniversary of Independence of The Bahamas with Bishop Blake and members of All Nations Life Development Christian Center, Port St. Lucie, Florida. Independence Remarks by Consul General Linda Mackey. Consulate's Staff at the church Service. L-R: Mr. Rudolph Greene,…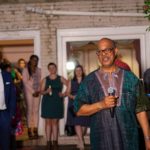 WASHINGTON, D.C. – The Bahamas Embassy was once again the home of an event sponsored by THINGS TO DO D.C. that has become a staple social event for young professionals in the Washington, D.C., area on Friday night July 20, 2018. Promoted as an occasion to introduce D.C. young professionals to the "Spirit of Nassau…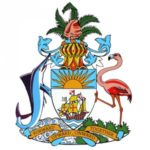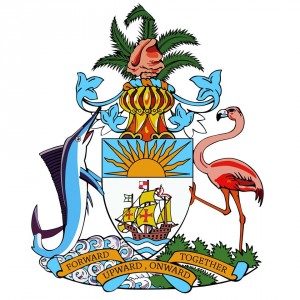 The Government of The Commonwealth of The Bahamas extends congratulations to The Government and People of The Slovak Republic as they commemorate the 25th Anniversary of Declaration of Sovereignty. The Bahamas through the Community of Latin America and Caribbean States (CELAC) has a long standing relationship with The Slovak Republic through the European Union (EU)….