| | |
| --- | --- |
| Authored by: | Lindsay Thompson |
| Source: | Bahamas Information Services |
| Date: | June 28, 2015 |
Minister of Education the Hon. Jerome Fitzgerald addressing the Closing Ceremony of the 19th Conference of Commonwealth Education Ministers, on Friday, June 26. The conference was held June 22 – 26, 2015 at Atlantis on Paradise Island.  (BIS Photo/Patrick Hanna)
PARADISE ISLAND, The Bahamas – It was during the historic 1985 Commonwealth Heads of Government Meeting on Paradise Island that the landmark Nassau Accord was established leading the way for the release from prison of Nelson Mandela, the South African anti-apartheid leader.
And 30 years later, in the same small state – The Bahamas – the call was made at the conclusion of the 19th Conference of Commonwealth Education Ministers (19CCEM) for establishing education as a core value throughout the 53 member states.
Minister of Education the Hon. Jerome Fitzgerald, during the closing ceremony said: "As Ministers of Education, we are cognizant of the fact that our Ministries are the most important within any government.
"We impact finance, national security, health, social services as well as youth and culture. We must therefore remain relentless in advancing the education agenda."
The 19CCEM was held under the theme: "Quality Education for Equitable Development: Performance, Paths and Productivity." The conference brought together Ministers of Education and other delegates from the 53 Commonwealth nations, June 22 – 26, 2015 at Atlantis, Paradise Island.
"We have reached the end of an outstanding, successful Conference of Commonwealth Education Ministers," said Commonwealth Secretary-General Kamalesh Sharma.
He added that the National Motto of The Bahamas: "Forward, Upward, Onward, Together," might be the watchword for the Commonwealth going forward.
"That togetherness and that collective ambition to achieve more is both a great aspiration and a great inspiration," he said.
In his concluding remarks, Mr. Fitzgerald said he was humbled to have served as Chair of the 19CCEM – when delegates were immersed in the world of education and examined challenges of policymakers, teachers and students.
"The presentations, discussions, exchange of ideas and collaboration have been an engaging learning experience for us all."
He continued: "I have learned much from my colleagues this week and my life has been deeply enriched by their presentations and the discussions that we have had."
Minister Fitzgerald said, however, there is still much work to be done.
"Because we know the inherent value of education, we must find ways to strategically and creatively communicate and transfer that value and appreciation to our citizens. As Malcolm X said, 'by any means necessary.'
"Let this meeting, held in an historic country in the Commonwealth, act as a basis for establishing education not only as a priority, but as a core value," he said.
Mr. Fitzgerald thanked all those who contributed to the "overwhelming success" of the conference, and the Commonwealth Secretariat for the confidence placed in the Ministry of Education, Science and Technology and the Government of The Bahamas in hosting a conference of this caliber.
The closing ceremony ended with a Bahamian Cultural Show featuring Rake and Scrape performers of the Cat Island Primary School; Dance Show by Creative Folklore; and a Junkanoo Rush-Out by Magic Showtime Boys.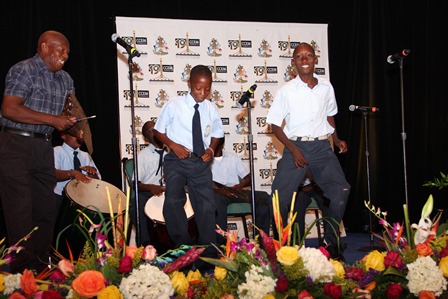 Cat Island Primary School students perform Rake and Scrape at the Closing Ceremony of the 19th Conference of Commonwealth Education Ministers on Friday, June 26. The conference was held June 22 – 26, 2015 at Atlantis, Paradise Island.  (BIS Photo/Patrick Hanna)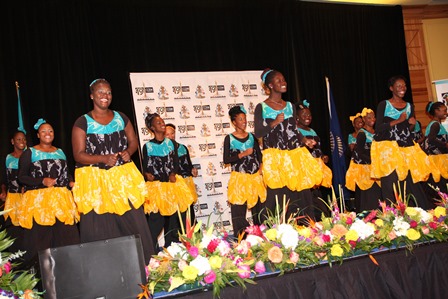 Creative Folklore put on a Dance Show during the closing ceremony of the 19th Conference of Commonwealth Education Ministers, June 26. The conference was held June 22 – 26, 2015 at Atlantis, Paradise Island.  (BIS Photo/Patrick Hanna)