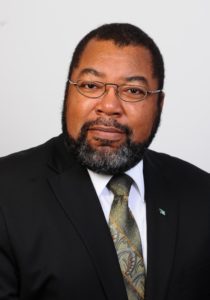 Mr. Eugene F. Torchon-Newry
Deputy Permanent Secretary
New Providence.
Email: eugenenewry@bahamas.gov.bs
Biography
Mr Eugene Torchon-Newry is a career Foreign Service Officer. He joined the Ministry of Foreign Affairs in 1986 and has served in various capacities at Headquarters and in several of The Bahamas' Overseas Missions, including in Port-au-Prince (Haiti), Miami, Washington-DC, and Havana (Cuba). He is presently the Head of the International Relations Division in the Ministry of Foreign Affairs and Immigration.
Mr Torchon-Newry has represented The Bahamas at a number of bilateral, international and summit meetings and conferences, including the United Nations General Assembly and the General Assembly of the Organisation of American States, the Caribbean Community (CARICOM) and the Community of Latin American and Caribbean States (CELAC).
Mr Torchon-Newry was born in Nassau but spent much of his early life overseas and was educated in France, Belgium and Canada, before returning to The Bahamas in 1984. Shortly thereafter, he joined the Public Service in 1985, when he first served as an Assistant Teacher and taught at what was then Governor's Harbour High School, now Central Eleuthera High School, in North Palmetto Point.
Mr Torchon-Newry is married and has two children.
Foreign Affairs and Immigration, Ministry of
Goodman's Bay Corporate Centre
2nd Floor, West Bay Street
Nassau City, New Providence,
Bahamas.