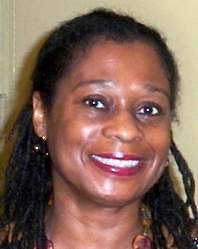 BETHEL ELECTED TO CEDAW FOUR-YEAR TERM
UNITED NATIONS, 21 June, 2016 — Marion Bethel, the noted Bahamian attorney and author, is among the 11 experts elected to serve on the United Nations Committee on the Elimination of Discrimination Against Women (CEDAW), replacing those whose four-year terms are set to expire at the end of 2016.
In two rounds of voting by secret ballot on Wednesday, June 21, the following experts were elected to serve on CEDAW from 1 January 2017 until 31 December 2019:  Dalia Leinarte (Lithuania), Nicole Ameline (France), Wenyan Song (China), Nahla Haidar (Lebanon), Gunnar Bergby (Norway), Bandana Rana (Nepal), Rosario Manalo (Philippines), Hilary Gbedemah (Ghana), Theodora Oby Nwankwo (Nigeria), Aicha Vall Verges (Mauritania) and Marion Bethel (Bahamas).
They were elected from a list of 25 candidates. Comprising 23 independent experts serving in their personal capacity, the Committee monitors the implementation of the Convention by States parties.
"Each expert serves a four-year term and elections are held every two years, ensuring a balance between continuity and change in the Committee's composition," according to a UN press release.
"At the outset, the Meeting of States Parties elected, by acclamation, Mwaba Patricia Kasese-Bota (Zambia) as its Chair, upon her nomination from the African States.  Nadav Yesod (Israel) from the Group of Western European and other States and Mohammed Marzooq (Iraq) from the Asia-Pacific Group of States were elected Vice-Chairs," the release noted.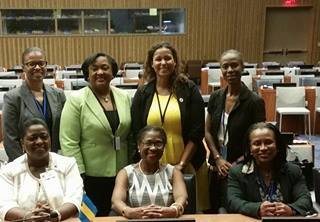 A total of 189 States Parties voted.
Ms. Bethel, Counsel and Attorney-at-Law and managing partner with Sears & Co. Chambers, Nassau, was endorsed by CARICOM and also received widespread support from many Asian, African and European countries.
As a partner with Sears & Co. Chambers, her practice includes administrative law, company law, commercial law, contracts, conveyancing, immigration law, insurance law and matrimonial law.
Ms. Bethel received her Bachelor of Arts in Spanish with Honours at McGill University in Montreal. She attended Wolfson College, Cambridge University in England and received her Bachelor of Arts in Law. In England she pursued her Certificate of Legal Education at the Council of Legal Education. Ms. Bethel attended Columbia University in New York, where she pursued her Master of Arts.
Ms. Bethel is admitted as an Attorney-at-Law to the Bars in England and Wales and the Bahamas.
CAPTION
Pictured from front left to right: The Hon. Melanie Griffin, Bahamas Minister of Social Services and Community Development; Mrs. Marion Bethel, CEDAW member; and Miss. Charmaine Williams of UN Mission. At the back left to right: DPR Tishka Francis, Miss. Phedra Rahming of Ministry of Social Services, Angelika Hillbrandt and Charice Rolle of the Bahamas UN Mission.