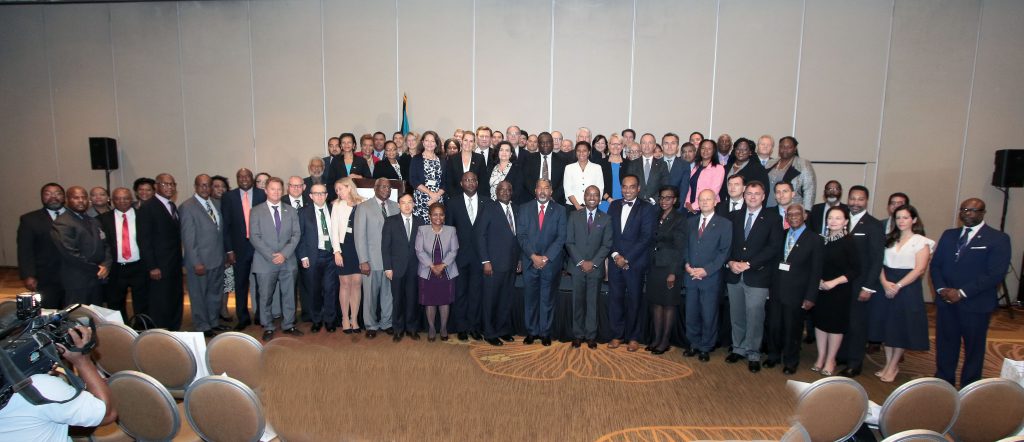 Diplomatic Week 2017 – Minister  of Foreign Affairs, center, along with other senior Government officials and officials of the Ministry, are shown with accredited diplomats to The Bahamas –  both resident and non- resident at the official opening of the Ministry's 4th annual Diplomatic Week at the Melia Resort in Nassau at Cable Beach.  Bahamas Information Services photograph; Derek Smith
16 October, 2017
Diplomatic Week Official Opening
Minister of Foreign Affairs, the Hon. Darren Henfield officially opened the Ministry's 4th annual Diplomatic Week on Monday 16th October, 2017. In opening the event at the Melia Resort on Cable Beach, Nassau, Minister Henfield noted to the diplomats gathered from all countries with accredited with relations with The Bahamas that "…The world is not static. We need to adapt our ways and methods to the change, all without losing out identity.
The Minister continued by observing "The present Government was elected to lead The Bahamas at a time when the people wanted to have more of a say about where they were going in these times of interesting changes.
"I believe we are on a path to combining new ideas with a listening mind. This confirms the idea of compiling as many subject together under the umbrella of a theme dynamic enough to see your contributions gathered for consideration and application in the near future.
'…bringing you into our midst has always been about exposing you first hand to developments in The Bahamas and then letting you do your jobs. Therefore, we have put together some roundtables, some bilateral meetings and some presentations and visits to other parts of our archipelago to enhance your appreciation of The Bahamas, to see our capacity to blend our internal experiences and diversity with those of the rest of the world.
"We are looking to get the widest input in our attempt to guide our country in a positive direction, using innovative ways – approaches – if you will. Diplomatic Week presents an opportune occasion for our Government to meet with envoys to dialogue and share ideas on matters of mutual interest in a real way.
"Whiles The Bahamas offers a warm and welcoming atmosphere, it must be recognised that this is due in no small part to the many relationships we have forged with the countries, organisations and peoples with whom we have relations – diplomatic, technical and otherwise – and, in the years to come; I look forward to the further strengthening of these ties from the vantage point offered by the Ministry that I am honoured to lead."
Diplomatic Week continues at the Melia Resort through until Wednesday, when diplomats will take a tour of Grand Bahama before closing ceremonies and the various departures on Thursday.