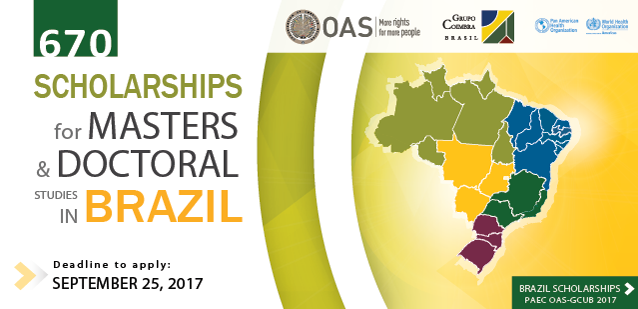 14 August, 2017
MASTER'S AND DOCTORATE SCHOLARSHIP OFFERINGS FROM OAS AND GCUB (BRAZIL)
Scholarship opportunities have been offered to citizens of the Organization of American States (OAS) Member States (including The Bahamas) to pursue master's or doctorate programs in Brazilian institutions of higher education from the Program for Education and Training (PAEC), a partnership between the OAS and the Coimbra Group of Brazilian Universities (GCUB), with the support of the Brazilian Ministry of Foreign Affairs.
The scholarship entails exemption of tuition and enrollment fees; monthly scholarship paid by the Brazilian institution in the amounts of approximately $480 USD (master's degree) and $ 700 USD (doctorate degree); a one-time installation allowance of $1,2000 USD for each of the first 150 candidates approved; as well a Portuguese course.
The deadline for submitting application via OAS website is 25th September, 2017.
For further information about the scholarships please refer to the OAS website (http://www.oas.org/en/scholarships/brazil.asp) as well as the Brazilian Ministry of Foreign Affairs (www.dce.mre.gov.br), in the "scholarships/courses" section.