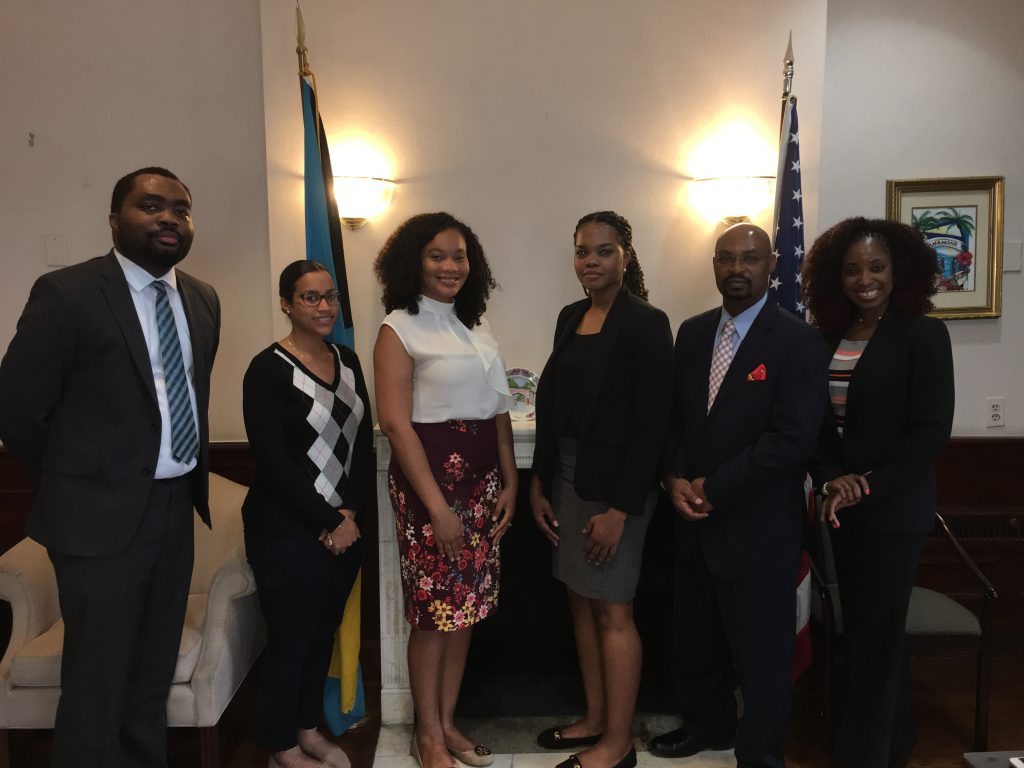 Caption – At the completion of her internship programme, Ms. Randiblue Hanna is pictured with Mr. Chet Neymour, Bahamas Chargé at the Embassy in Washington, D.C., and other members of the diplomatic staff. From left to right: Mr. Mikhail Bullard, Second Secretary; Miss Tracee Dorestant, Second Secretary; Mrs. Jade Williams, Second Secretary; Intern RandiBlue Hanna; Mr. Chet Neymour, Chargé; and Miss Krissy Hanna, Second Secretary.
WASHINGTON, D.C. – RandiBlue Hanna completes internship 
Washington, D.C. – On August 4th, 2017, Ms. RandiBlue Hanna completed her five-week internship with The Bahamas Embassy and Permanent Mission in Washington DC.
After graduating from St. Augustine's College in 2012, RandiBlue majored for two years in Sociology at the then College of The Bahamas and transferred to Oral Roberts University where she will be entering her final year of a Bachelor's of Science in International Relations degree this Fall.
After completing her undergraduate degree, RandiBlue plans to attend graduate school to do research on sustainable development practices for small island states as well as on trade within the western hemisphere.
Ms. Hanna advised that she sought out the internship because she "wanted to gain practice experience in my field as it pertains to negotiation realities, international policymaking for regional cooperation and alliance building, sit in on the caucus meeting and informal sessions, whilst observing the decorum and daily life tasks of a diplomat."
During her internship at the Embassy and Permanent Mission, RandiBlue attended meetings of the CARICOM Caucus and various sessions of Organization of American States (OAS) on a regular basis and worked closely with Chargé Chet Neymour, Second Secretary Mikhail Bullard, Second Secretary Krissy Hanna, Second Secretary Tracee Dorestant, and Second Secretary Jade Williams on both bilateral and multilateral matters.
In reference to what she would have learned from her experience, she indicated she "learned about the actual nature of the workings of intergovernmental cooperation" and "the communicative craft that coalesces with patience, resolve, and comprise to achieve goals" in foreign affairs.
Given the aptitude and ambition demonstrated by RandiBlue throughout the internship process, it is certain The Bahamas will benefit from her talent in the near future.
The internship programme targets university students in the Washington DC area but is open to Bahamian students studying anywhere in the US and its goal is to provide access to practical work experience, focused on Bahamian diplomatic engagement, for the cultivation of the next generation of Bahamian foreign and public service leaders.