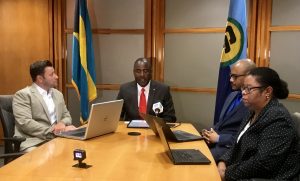 High Commissioner Reuben Rahming giving brief remarks during the Press Conference by the media.
25th June, 2018
NASSAU, Bahamas – The Ministry of Foreign Affairs in collaboration with the Economic Development Planning Unit of the Office of The Prime Minister hosted the CARICOM Secretariat. The delegation led by Director, Strategic Management Unit, Mr Craig Beresford conducted a series of Sensitization seminars for the CARICOM Results Based Management System RBM.
CARICOM created a Strategic Plan 2015-2019 that was approved at the Thirty-Fifth meeting of Conference of Heads during July, 2014. This plan was designed to share the views of a wide range of stakeholders' i.e. Member States, Regional Institutions, Organs, Bodies and the CARICOM Secretariat. It was created to provide a framework to guide the actions of CARICOM to respond to the many ongoing challenges facing the region.
The Results Based Management System RBM, was designed to guide systematic data collection, analysis and use as well as progress reporting on regional integration and development at all levels; chart a way forward for generating evidence-based data and information to assist in future strategic planning, decision making and inform more accurate solutions for future; and as a feedback mechanism.
The seminar was on 25th -26th June, 2018 at the University of The Bahamas. State actors in seminar included, Government Heads of Departments, Caribbean Single Market Economy CSME, Representatives of the National Authorizing Office (NAO) & National Statistics Office (NSO) and key Public Sector Agencies. Non state actors included, International Development Partners, Private Sector, Non-Governmental Organizations (NGO's) and the Press.