| | |
| --- | --- |
| Authored by: | Betty Vedrine |
| Source: | Bahamas Information Services |
| Date: | May 12, 2016 |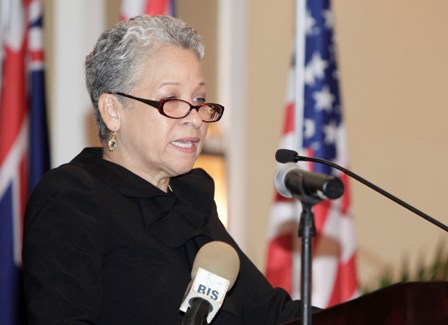 Minister of Transport and Aviation the Hon. Glenys Hanna-Martin brings welcome remarks during opening of the Sixth Meeting of North American, Central American and Caribbean (NACC) Directors of Civil Aviation, held May 10-12, 2016 at Melia Nassau Beach Resort. (BIS Photo/Derek Smith)
NASSAU, The Bahamas – Minister of Transport & Aviation the Hon. Glenys Hanna-Martin welcomed delegates of the Sixth Meeting of North American, Central American and Caribbean (NACC) Directors of Civil Aviation at the opening ceremony of their conference May 10 at Melia Nassau Beach Resort.  Minister told the group that the forum was timely given that air connectivity is critical to the social and economic wellbeing of The Bahamas — an archipelagic nation.
Under the theme, 'No Country Left Behind…Regional Transformation for Effective Implementation,' the group's focus during their meetings in The Bahamas was on matters of Contracting States' compliance with International Civil Aviation Organization (ICAO) Standard and Recommended Practices and the technical assistance offered by ICAO to ensure 'no country is left behind.'
Minister Hanna-Martin said that the protocol inevitably recognizes the necessity of universal implementation of Standard and Recommended Practices to aviation safety and security, and also understands that developing countries often face immense challenges in attaining these standards as implementation can very often be most 'cost onerous.'
"This campaign adopts and recognizes a principle of what I will call 'global equity' of sorts in that it is premised upon a fundamental principle that each state ought to be able to fully participate in the social and economic benefits that the aviation sector brings to human societies," she said.
She noted that the government is cognizant of these realities.
"We happen to understand all of these things very well in The Bahamas.
You may know that we are an archipelago with populations dispersed throughout numerous islands. Each island is distinctive for its local culture and norms while at the same time sharing in a collective identity as one people."
Air connectivity, she pointed out, is therefore 'critical' to the social and economic life of the Bahamian people: and given the geography of the country, it should come as no surprise that The Bahamas has multiple airports positioned throughout the country — in one instance as many as three airports on a single island — and many of these airports are ports of entry.
"We are in fact among the top nations with the highest number of airports per capita. We are also a small island developing state and thereby vulnerable to natural disasters," said the Minister.
Referring to Hurricane Joaquin, which ravaged Southeastern islands last October, the Minister said the Category 4 hurricane caused severe damage estimated in excess of US$100 million.
"Included in that was damage to several of our airports, including very severe damage to one airport, a port of entry which is critical to the economic lifeblood of that island community."
She said air transport is, therefore, not only critical to keeping the country connected as an archipelagic nation, but also critical to the growth and development of local economies, the national economy, and of note, the tourism industry.