UN CEDAW Elections Update – 21st June, 2016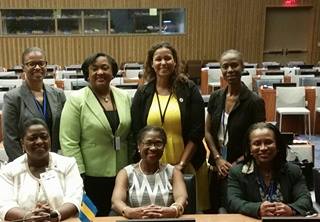 Ms. Marion Bethel of Bahamas Successful in Bid for Seat on Committee on Elimination of Discrimination against Women (CEDAW)
UNITED NATIONS, New York — Ms. Marion Bethel, Bahamas candidate for CEDAW was successfully elected to serve for 4  years on the Committee.  She was endorsed by CARICOM and also received widespread support from many Asian, African and European countries. Her credentials and her experience made her an excellent choice for The Bahamas.  
The Convention on the Elimination of all Forms of Discrimination Against Women (CEDAW) is an international treaty adopted in 1979 by the United Nations General Assembly. Described as an international bill of rights for women, it was instituted on 3 September 1981 and has been ratified by 189 states. 
Pictured from front left to right: The Hon. Melanie Griffin, Bahamas Minister of Social Services and Community Development; Mrs. Marion Bethel, CEDAW Candidate; and  Miss. Charmaine Williams of UN Mission. At the back left to right: DPR Tishka Francis, Miss. Phedra Rahming of Ministry of Social Services, Angelika Hillbrandt and Charice Rolle of the Bahamas UN Mission.