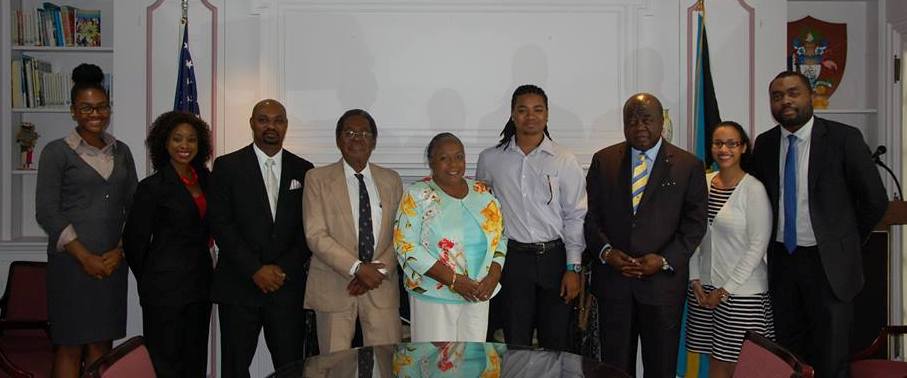 WASHINGTON, D.C. — Former Bahamas Minister of Foreign Affairs Janet Bostwick paid a courtesy call on His Excellency Dr. Eugene Newry, Bahamas Ambassador to the United States, at the Embassy of The Bahamas, 2220 Massachusetts Avenue, N.W., on Thursday, July 28, 2016.
Mrs. Bostwick, who was accompanied by her grandson John Henry Bostwick III, headed the Organization of American States (OAS) Electoral Observation Mission (EOM) at the general elections held earlier this year in Jamaica, and she was in Washington to officially presented the Mission's report to the OAS on Wednesday, July 27, during a meeting of the Permanent Council in the Simon Bolívar Hall of the OAS headquarters at 17th Street and Constitution Avenue, NW. His Excellency Dr. Elliston Rahming, Ambassador and Permanent Representative of The Bahamas to the United Nations and the OAS, is Chair of the Permanent Council.
Pictured from left to right during the courtesy call are: Miss Dena Ingraham, a Bahamian student at Lincoln University in Pennsylvania, who is doing a five-week internship at the Embassy; Miss Krissy Hanna, Second Secretary; Mr. Chet Neymour, Deputy Chief of Mission; Ambassador Newry; Mrs. Bostwick; John Henry Bostwick III; Ambassador Rahming; Miss Tracee Dorestant, Second Secretary; and Mr. Mikhail Bullard, Second Secretary.